Here we extend the reach and influence of Leading Learning, sharing presentation and professional learning resources, and connecting these national standards to the goals and educational priorities in your province or territory.
---
Presentations  & Papers
Collaborative Leadership in the School Library Learning Commons: New Canadian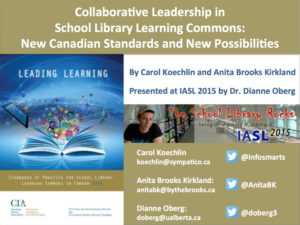 Standards and New Possibilities
International Association of School Librarianship Conference 2015: Paper by Carol Koechlin and Anita Brooks Kirkland, presented at the conference by Dr. Diane Oberg
A video introduction to Leading Learning, based on the IASL presentation.
---
Professional Learning

QSLiN Library Learning Commons Digital Badges
"The Library Learning Commons Digital Badges are designed to teach you about the Canadian Library Association school library standards: Leading Learning. These badges will then guide as you put the standards into action in your library."
Click here to explore QSLiN's learning resources, organized by the five Leading Learning standards.
OR
Click here to explore QSLiN's Learning Commons Playlist on YouTube.
---